Next Events …
OREIG's next regular event is on Thursday, March 21, 2019 at the Best Western Plus in Kelowna – 2402 Hwy 97 N, Kelowna, BC V1X from 7:00-9:30pm
FIRST EVENT IS ALWAYS FREE FOR NON-MEMBERS
Our guest speaker for our March event is Nikki Csek.
Nikki started what is now known as Csek Creative out of her home in 1999. Today, Csek Creative has grown to have offices Kelowna, Kamloops and Salmon Arm with a staff of over 40 people. The company offers everything from branding and marketing to website design services and is proud to be currently working with more than 1,200 active Okanagan businesses in nearly every industry. 
Meanwhile, Csek Creative's media division, NowMedia, has seven community portals active in BC – KelownaNow, KamloopsBCNow, PentictonNow, PrinceGeorgeNow, ShuswapNow, VictoriaNow and VernonNow. 
Csek Creative is a proud recipient of the Marketer of the Year award in October of 2016 from the Kelowna Chamber of Commerce, Top 5 Best Company BC by SBBC 2017, consecutively placed 27th in 2017 and 2018 for BIV Top 100 Fastest – Growing Companies BC. Nikki has been the recipient for Volunteer of the Year 2017 for the Kelowna Chamber of Commerce and she currently (2018) sits on the Executive Board of Directors for the Downtown Kelowna Association and the Kelowna Chamber of Commerce. Nikki is the president of KPRG (Kelowna's Premier Referral Group) and has had past positions on the board for OBRG (Okanagan Business Referral Group) and SLN (Sales Lead Network).
Nikki is extremely passionate about advancing businesses, organizations, and community.
Join us Thursday, March 21st at the Best Western Plus for this exciting event!
REGISTER FOR March 21, 2019 EVENT HERE!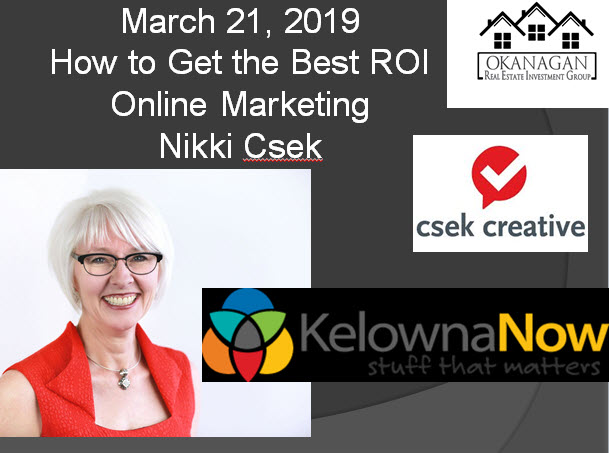 As always, FIRST Event is FREE!
Our events also include Open Mic times.  Be sure to come prepared with your opportunity, service, or even a success story!  You get 90 seconds to present your opportunity- so make sure and write it out and practice it ahead of time!  NOTE: Open Mic is for OREIG Members Only.