OREIG's next regular event is on Thursday, September 12, 2019 at the Best Western Plus in Kelowna – 2402 Hwy 97 N, Kelowna, BC V1X from 7:00-9:30pm
FIRST EVENT IS ALWAYS FREE FOR NON-MEMBERS!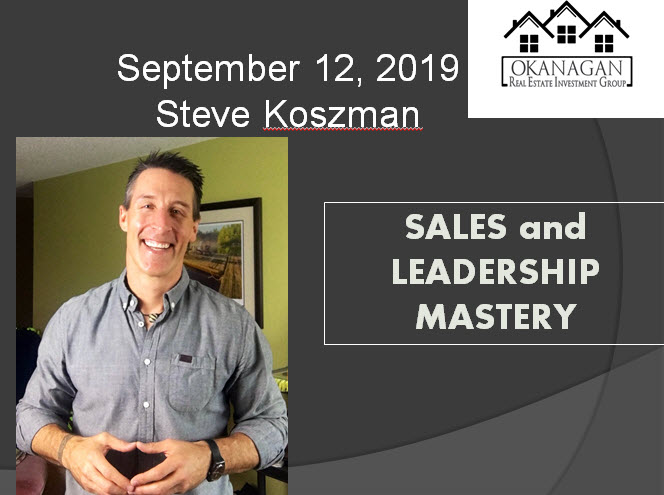 Join Steve Koszman for Sales Training!
Steve has a natural ability of connecting with others, understanding their needs and offering support to help them achieve remarkable results. He credits these attributes to his small town upbringing in southern Saskatchewan where he expressed his passion to serve others through community involvement and volunteer work.
Steve pursued his passion well beyond high school. Once completing post secondary school, Steve found his life's direction working at Camp Easter Seal for the Saskatchewan Abilities Council.  Camp is a completely wheelchair accessible facility that is focused on providing a fun and barrier free experience to all campers. It was here Steve learned that instead of putting our focus on what a person can't do, it would make more sense to uncover what they CAN do.
Since that time, Steve has been driven to support others in all areas of his own life wherever possible.  In addition to his years of work experience in a leadership role, he is an active volunteer, event planner and supporter for numerous non-profit organizations such as Special Olympics, Juvenile Diabetes Research Foundation and Families Fighting Cancer. Although his title and role with each organization may vary, one thing common is his passion to serve humanity in a bigger way. Steve has used his leadership and public speaking to change lives for the better on many levels.
Today, Steve is a certified professional trainer and coach with the world-class organization, Blair Singer Training Academy. Blair Singer himself is a Rich Dad Advisor to Robert Kiyosaki and has worked with thousands of individuals and businesses in over 25 countries. Blair teaches people how to change behavior quickly, increase sales and build championship teams. Using tools learned from his mentor and including his own unique formula, Steve teaches people how to set the right goals and make meaningful changes to obtain them. In doing so he instills the joy and fulfillment of personal and professional achievement through happiness and success. Steve is a dynamic and inspirational speaker that keeps crowds engaged and on the edge of their seats.
REGISTER FOR September 12, 2019 EVENT HERE!
Our events also include Open Mic times.  Be sure to come prepared with your opportunity, service, or even a success story!  You get 90 seconds to present your opportunity- so make sure and write it out and practice it ahead of time!  NOTE: Open Mic is for OREIG Members Only.