Our Next regular event will be held on Thursday, JANUARY 30, 2020
PLEASE NOTE THAT IT IS NOT OUR "USUAL" 3rd THURSDAY!
7:00-9:30pm at the Best Western Plus in Kelowna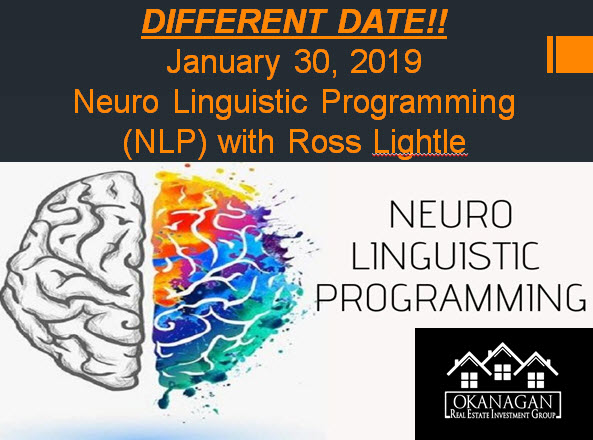 Join us Thursday, JANUARY 30th to enjoy a lively presentation from our very own, Ross Lightle (Founding Member, OREIG Advisor, OREIG PLATINUM Sponsor, and Canada's Premier Real Estate Trainer and Coach).

Neuro-Linguistic Programming is like a user's manual for the brain. Taking an NLP training is like learning how to become fluent in the language of your mind and the mind of others. NLP is the study of excellent communication–both with yourself, and with others. It was developed by modeling excellent communicators who got results with their clients. NLP is a set of tools and techniques, but it is so much more than that. It is an attitude and a methodology of knowing how to achieve your goals and get results.

Ross Lightle has been training people on the skill of NLP for decades. We are so lucky he is bringing this important training to our Monthly meeting and you can learn about how to take advantage of MORE training in February.
As Always, Your FIRST Event is ALWAYS FREE!